Home » Key Personnel » Martin David Slade
Katie Zaidel
, MEM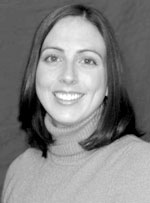 Katie Zaidel received her BA in Biology from Colorado College, where she graduated cum laude and Phi Beta Kappa. She then earned a Master in Environmental Management from Yale School of Forestry and Environmental Studies with an emphasis on corporate environmental management. She also holds a Certificate in Public Health Science from the University of Colorado Denver. While studying in Colorado, Ms. Zaidel worked as a full-time teaching assistant for cell biology, microbiology and ecology courses in the Biology Department at Colorado College and also as a genetics research assistant in the Department of Pharmacology at the University of Colorado Denver, exploring the genetic mechanisms of alcohol dependence.
While completing her graduate studies at Yale, Ms. Zaidel worked for the Environmental, Health & Safety division of Cargill, Incorporated. At Cargill, she developed a scenario planning project aimed at facilitating constructive discussion on climate change among business leaders. That project entailed identification and presentation of scientific data in a format that encouraged appreciation of alternative potential responses and development of corporate climate change programs and policies. She also developed an epidemiological database on HIV/AIDS, malaria and tuberculosis for those areas where Cargill had significant operations.
Ms. Zaidel is currently based in Boulder, Colorado. Her recent contributions to Jonathan Borak & Company have included an analysis of the association between coal mining and mortality rates in Appalachia, development of a Markov-chain analysis of screening strategies for beryllium sensitization, the creation of a clinical data repository from a large series of patients with beryllium-related health effects, and a summary of the risk of lymphoma associated with exposure to solvents.