Home » Key Personnel » Greg Sirianni
Greg Sirianni
, MS, CIH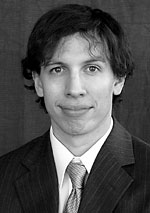 Greg Sirianni is a practicing Industrial Hygienist and Adjunct Professor at the University of New Haven where he teaches Occupational Safety and Health Management within the Department of Fire Science and Professional Studies. He received a BS in marine safety and environmental protection from Massachusetts Maritime Academy and earned his MS summa cum laude in Industrial Hygiene at the University of New Haven. He has been a board member of the Connecticut River Valley American Industrial Hygiene Association since 2005 and served as the Associations President in 2010. He serves as an editorial board reviewer for manuscripts submitted to the Journal of Occupational and Environmental Hygiene. He is board certified in the comprehensive practice of industrial hygiene by the American Board of Industrial Hygiene.
Mr. Sirianni first worked at Jonathan Borak & Company as a research assistant while pursuing his graduate studies in Industrial Hygiene. Following that, he worked as an industrial hygienist in the Safety and Health program at Pratt & Whitney, a division of United Technologies Corporation. In 2000, Mr. Sirianni returned to Jonathan Borak & Company where he works as a consulting industrial hygienist.
Mr. Sirianni has conducted industrial hygiene field surveys and exposure assessments in a variety of industrial settings including underground and open-pit mines, foundries, automobile and truck manufacturing plants, wood treatment facilities, marine vessels and granite quarries. His recent projects have included technical evaluations of monitoring instruments used for exposure assessment of airborne particulates, studies on the size distribution of airborne silica in granite quarries, assessments of exposure to diesel exhaust particulate in motor vehicles, field validation of a toxicokinetic model of workplace exposures to arsenic, and recently completed a comprehensive review of the literature pertaining to the decontamination and care of personal protective equipment.

Photo: Rachael Weiss-Malik