Home » Key Personnel » Mavis Lockwood
Mavis Lockwood
, CMA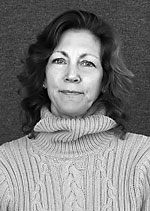 Mavis Lockwood is a Certified Movement Analyst who specializes in the assessment, prevention and rehabilitation of movement-related and neuromuscular disorders. She received her BA in dance and theatre at Hampshire College and earned her professional certification as a CMA at the Laban/Bartenieff Institute of Movement Studies in New York.
An experienced clinician in private practice since 1980, Ms. Lockwood also served as Dean of the Laban/Bartenieff Institute of Movement Studies and Co-Director of the Center for Dance Medicine, both in New York City. She is an active and popular teacher of movement-related topics including functional anatomy, kinesiology, ideokinesis, movement for special populations, and prevention of repetitive trauma.
She has served as faculty, visiting faculty or guest lecturer at universities, colleges and professional schools including Allentown College, Connecticut College, Laban/Bartenieff Institute, New School for Social Research, Quinnipiac College, Temple University, University of Pennsylvania and Yale University. She has also provided lectures and training programs on the prevention, recognition and management of movement-related disorders to professional societies, performing arts organizations and industry.
As a Consulting Scientist at Jonathan Borak and Company, Ms. Lockwood provides expertise in the assessment and rehabilitation of chronic movement-related injuries and the design of workplace accommodations for workers with cumulative trauma disorders. Her projects and clients have spanned an array of activities, from desk workers in traditional office environments to performing artists and athletes who suffer pain and restrictions as a consequence of repetitive activities and physical stress.

Photo: Rachael Weiss-Malik